We take care for your vehicle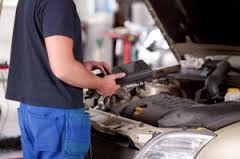 When you visit Metrotech for repair services or follow-up, we're more than willing to offer a diagnostic check. Our expert technicians inspect your vehicle's major operating systems – your tires, fluid levels, battery, lights, wipers, belts, hoses, suspension, brakes and more.
Our easy-to-talk-to auto car advisors will explain any suggested maintenance or repairs. They won't take any actions unless you approve them first.
Our ASE-certified auto technicians are looking out for your vehicle and your budget – they will never surprise you with any out-of-the-blue car repair. They will, however, always thoroughly inspect your car and advise you on the health of your vehicle so that you can make the most informed decisions when it comes to maintenance and repair services.